Thermoforming/Vacuum Forming: Thin Gauge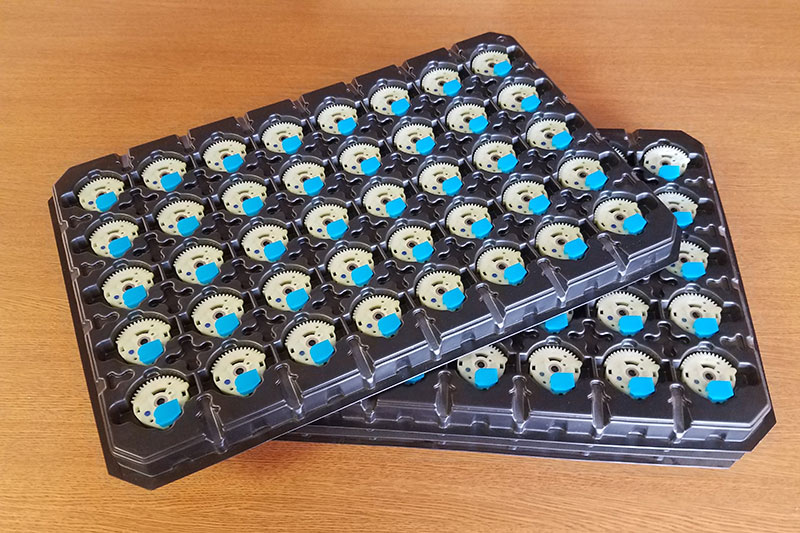 Our Thin Gauge Thermoforming partner produces thin gauge Thermoformed and Vacuum Formed products using in-line, roll-fed, form, and trim in-line vacuum/pressure forming. This process is most efficient when the product is produced in one seamless, continuous operation. Excellent for large volume runs.
For Medium to Low Volume needs, processes include multiple roll-fed, in-line forming (vacuum only), with sideline and offline roller, and flat fed die cutting. Set-up and operating costs are more suited to these volumes. Tooling, energy, and labor costs are kept to a minimum utilizing these processes.
TYPICAL PRODUCTS:

Trays
Clamshells
Reels
Blisters
Custom Shapes
Form-Fill-Seal

MATERIALS:
INDUSTRIES:
AEROSPACE: Special component packages, satellite component packages.
AUTOMOTIVE: Component handing trays, robotic feed trays, battery trays
BEVERAGE: Vending machine carrier pucks, bottle organizers, POP displays
COSMETIC: Implement trays, clamshells and blisters, pressed powder transport packages
DISPLAY: Point of Purchase (POP) trays, tabletop advertising trays, blister cards.
ELECTRONICS: ESD handling trays and covers, conductive enclosures, special device clamshells, shipping containers, Wi-Fi antennas.
FOOD: Entree dishes, frozen food packages, meal trays, candy trays, clear clamshells, microwavable containers, dual oven trays (CPET), liquor bottle (protective and decorative) trays and cartons.
GOVERMENT: MBR manufacturer, military components and sub-assemblies, profile Extrusion of TPP and TPE flexible polymers and shapes.
MEDICAL: Surgical packaging, Tyvek lidding, non-woven and woven textile die cutting.
PHARMACEUTICAL: Temperature control packaging, oncology packaging, surgical instrument packaging and clamshells, form-fill seal packages, blood vial trays, sample carriers, blotters.
REFRIGERATION: Condensation drip pans, shelving, compressor packaging, Freon resistant flues and covers, vents, louvers.
SECURITY: Anti-terrorism devices, munitions protection (SD), ESD supplies, non-woven materials.
SOLAR ENERGY: Solar cell base forms, battery components, PVC UV/FR VO connector boxes and covers, battery trays.