Plastics: Thermoforming/Vacuum Forming: Heavy Gauge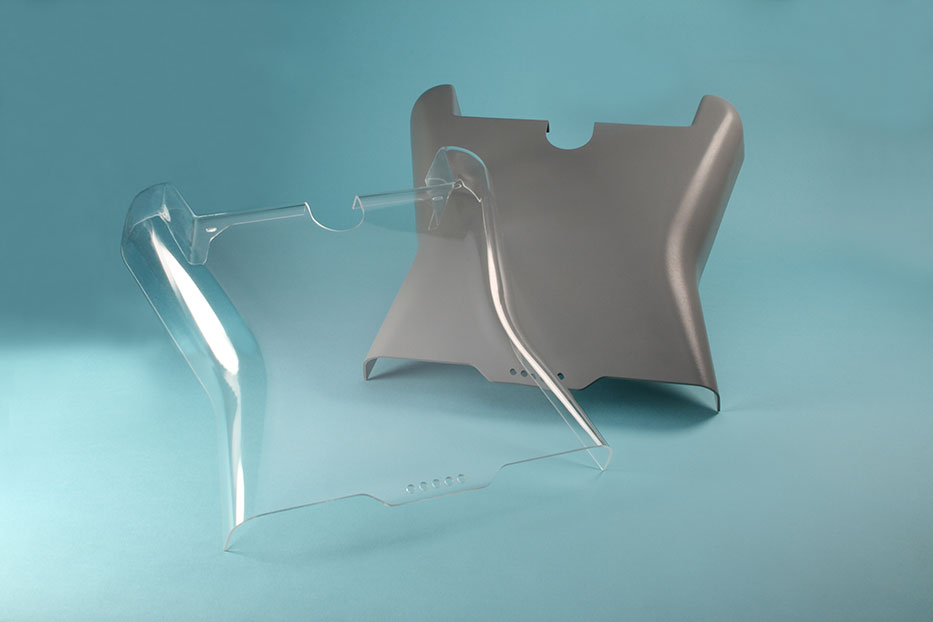 Our Heavy Gauge Thermoforming partner produces heavy plastic components utilizing Thermoforming/Vacuum Forming processes. Thermoformed products range from 2" X 2" up to 72" X 108", and in any thickness up to 1 ½ ". Capabilities include custom thermoforming and fabricating of all thermoplastic materials from Product Engineering, Prototyping, to Production and Assembly.
Vacuum Thermoforming is a very economical method for producing plastic parts. The process can produce large or small parts in low quantities at a reasonable price with a low tooling investment.
Pressure Thermoforming can achieve the high-quality detailed look of injection molding with less expensive tooling. By using air pressure in conjunction with vacuum, textures, undercuts, and other intricate details can be produced in the molded part. While not as economical as vacuum thermoforming, the enhanced design freedom and higher precision make the method a good choice for instrument covers or other high-end products in volumes that may not justify the costs of injection molding.
Press Thermoforming is a method that utilizes matched dies to produce complex parts with superior mechanical properties. Relatively inexpensive tools can be used to produce parts with thin ribs, embossed numbers or other details that are difficult or impossible using other methods.
Billow Thermoforming is a technique that uses compressed air to produce "blown" parts such as domes or skylights in quantities from one to thousands. Tool costs are minimal, which makes it a very economical process when used appropriately.
In addition, materials up to 1 ½" thick can be processed.
MATERIALS INCLUDE
ABS
PVC
Acrylic
Polycarbonate
Lexan®
Noryl
Ultem®
Radel®
Polyethylene

Polypropylene
Polystyrene (HIPS)
Teflon
ESD (FEA, FAA)
Halar
Kynar
FEP
Kydex