Plastics: Rotational Molding
ISO 9001:2000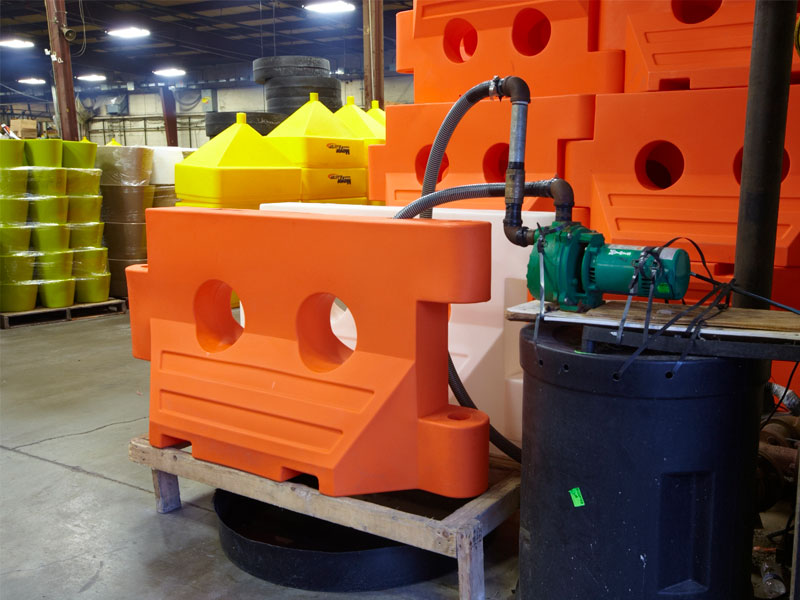 Our Rotational Molding partner produces large and small custom products, as well as stock bulk containers. Capabilities include: Textured Surfaces, Metal Inserts, Foam Filling, Drilling, Cutting, and Assembly.
Our experienced team provides: Product Design, Prototyping, Tooling Fabrication, and Management production feasibility. Finishing options include: In-Mold Graphics, Flame Polishing, and Painting to bring your Roto-Molded product to life. This is all accomplished in their 100,000 sq. ft. molding facility.
With more than 30 molding arms running 24/7/365, we have the capacity and flexibility to mold your product with an on-time delivery schedule. Stocking, Warehousing, Packaging and Distributing your product is also available.
Rotational molding involves a heated hollow mold which is filled with a charge or shot weight of granulized plastic material. It is then slowly rotated usually around two perpendicular axes. This causes the softened material to evenly disburse and stick to the walls of the mold, forming the specified shape of the part. When cooled, the hollow molded part is removed from the mold for finishing operations.
BENEFITS OF ROTO-MOLDING

Product Flexibility
Product Complexity and Design (One-piece seamless shapes can be created)
Large Part: Low-Cost Tooling
Low Volume Runs
Soft Foam Capabilities
Rigid Foam Capabilities
Customization and Assembly
Strength and Longevity

MATERIALS

Polyethylene (PE)
Linear Low-Density Polyethylene (LLDPE)
High Density Polyethylene (HDPE)
Cross Linked Polyethylene (XLPE)
Polypropylene (PP)
Nylon (PA)
Polycarbonate (PC)
Additives